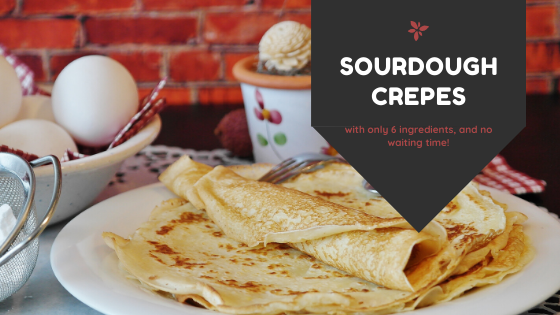 Homemade Sourdough Crepes
These beautiful and easy to make crepes require no overnight dough resting or proofing, and they are ready in just minutes. If you've been feeling confused or overwhelmed about making sourdough treats, this recipe is a great place to start. Get ready for your new favorite breakfast recipe, and bonus points - it will use up your extra starter discard! If you don't have a sourdough starter on hand, make one here.
The best sourdough crepes ever, and they only take 6 ingredients for an easy and quick breakfast. In full transparency, we've been making these almost every morning, but they'd make the perfect treat for a weekend breakfast or special occasion.
Recipe:
4 eggs
1 cup starter
1/4 tsp. salt
1/2 tsp. vanilla
2 tbsp. melted butter
1/2 cup milk (if your starter is thinner, you may need less milk)
To make your crepe batter:
1. Whisk together your starter, eggs, milk, salt, and vanilla. The batter should be very well mixed and runny - this is a great occasion to use a mixer!
2. Heat up a non-stick pan or skillet on medium high heat and add small amount of butter.
3. Pour 1/4-1/3 cup of the batter in the pan and swirl the pan until the batter reaches the edges. Cook for 2-3 minutes or until the sides of the crepe from away from the side of the pan and the bottom has some golden brown color.
4. Flip the crepe and cook for another 1-2 minutes.
5. Remove the crepe and add the delicious toppings! Our favorites are below:
Savory Crepes

- Arugula and gruyere, egg on top

- Scrambled eggs and ham
- Bacon and spinach
- Margherita! Tomatoes, basil, mozzarella
Sweet Crepes
- Strawberry Sauce with Whipped Cream or Fresh Berries with Whipped Cream
- Nutella or Peanut Butter with Banana
- Lemon Juice and Powdered Sugar (the French Way!)
- Jam and Goat Cheese