Listen, we all love bread. We do. But you know what we sometimes love even more than bread? Pizza.

What if I told you that you could follow one recipe and make both sourdough bread and a sourdough crust pizza on the same day?
So, yeah. That's exactly what I'm telling you. And it's darn easy.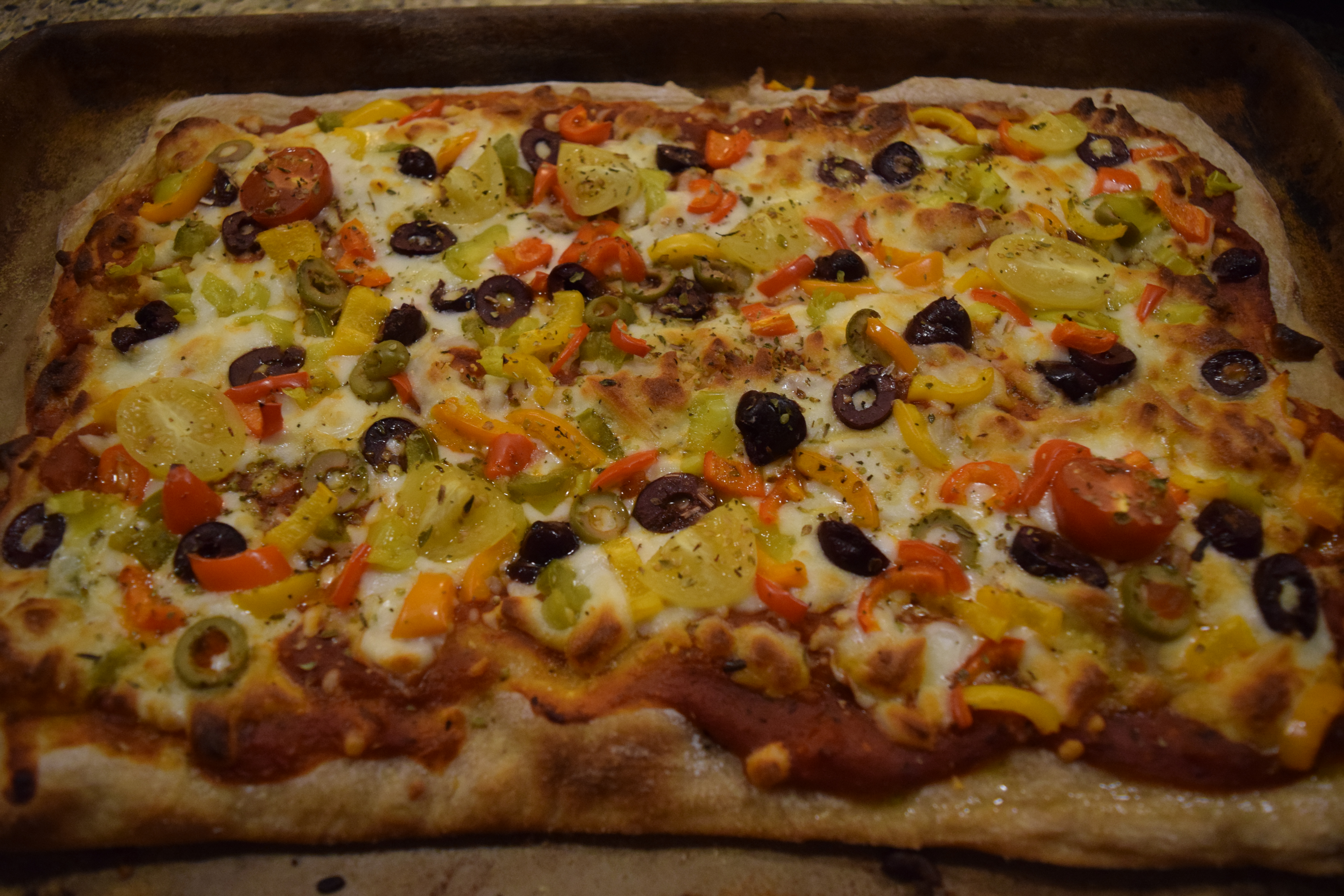 Put together the dough
You're going to need an active sourdough starter for this recipe. Don't have one yet? No fear! Sign up for our free online class about Creating and Maintaining a Sourdough Starter. Mix up a batch of bread dough the same way you usually do (check out the videos on mixing if you're a little rusty). I use my bog standard sourdough recipe:
800-1000g water (depending on how confident you are about shaping wet dough)
150g sourdough starter
1000g of all-purpose flour
200g whole wheat flour
50g salt
Go through all the usual mixing, folding, and proofing stages of the process. I personally enjoy proofing at room temperature for 8-10 hours and then another 10-12 in the refrigerator.
Pro tip: for a super flavorful sourdough crust, give the dough a full 24 hours or more in the refrigerator.
Separating out your pizza dough
When it comes time to shape your loaf, cut away ¼-⅛ of the dough (depending on how many pizzas you're hoping to make). A softball-sized lump of dough can be rolled out into a 10-12 inch pizza. Bake the rest into lovely sourdough bread.
Store your pizza dough in a ziplock bag and chuck it in the fridge.
1-2 hours before you intend to bake your pizza, pull the dough out of the fridge and let it hang out in the ziplock on your counter.
Preshape
Coax your dough out of the ziplock onto a floured work table. Give the dough a gentle preshape and let it rest for 5-10 minutes. In the meantime, preheat your oven to 475 degrees F.
Using a bench knife, flip your dough onto a well floured surface and make sure your hands are floured as well. Roll your rolling pin (or wine bottle) through a pile of flour and then start rolling out your dough, working from the center outwards.
Roll your dough out to be half an inch thick, and then flip. Feel free to add a little more flour to the table if it's starting to stick.
After gently flipping the dough, continue to roll it out as thin as you like (we personally enjoy a very thin crispy crust). Keep in mind that long fermented dough will be very delicate and prone to tearing (but so, so dang tasty).
Prepare a pizza stone or sheet pan by liberally coating it with semolina flour to prevent the pizza from sticking. You could also use brown rice flour or just about any whole grain flour if you don't have semolina on hand.
Perforate your dough with a fork in a few spots and toss it in the oven. Bake "blind" (with no toppings) for 7-10 minutes or until just starting to brown.
Assemble!
Remove your blind baked crust from the oven and add your desired sauce and toppings.
Bake your pizza at 475 degrees F for 5-10 minutes or until the crust has nicely darkened.
Serve hot with a nice beer or glass of wine!
Bread and pizza dough in one day with one recipe? That sounds like a two-jams-with-one-butterknife situation to me. We hope you enjoy!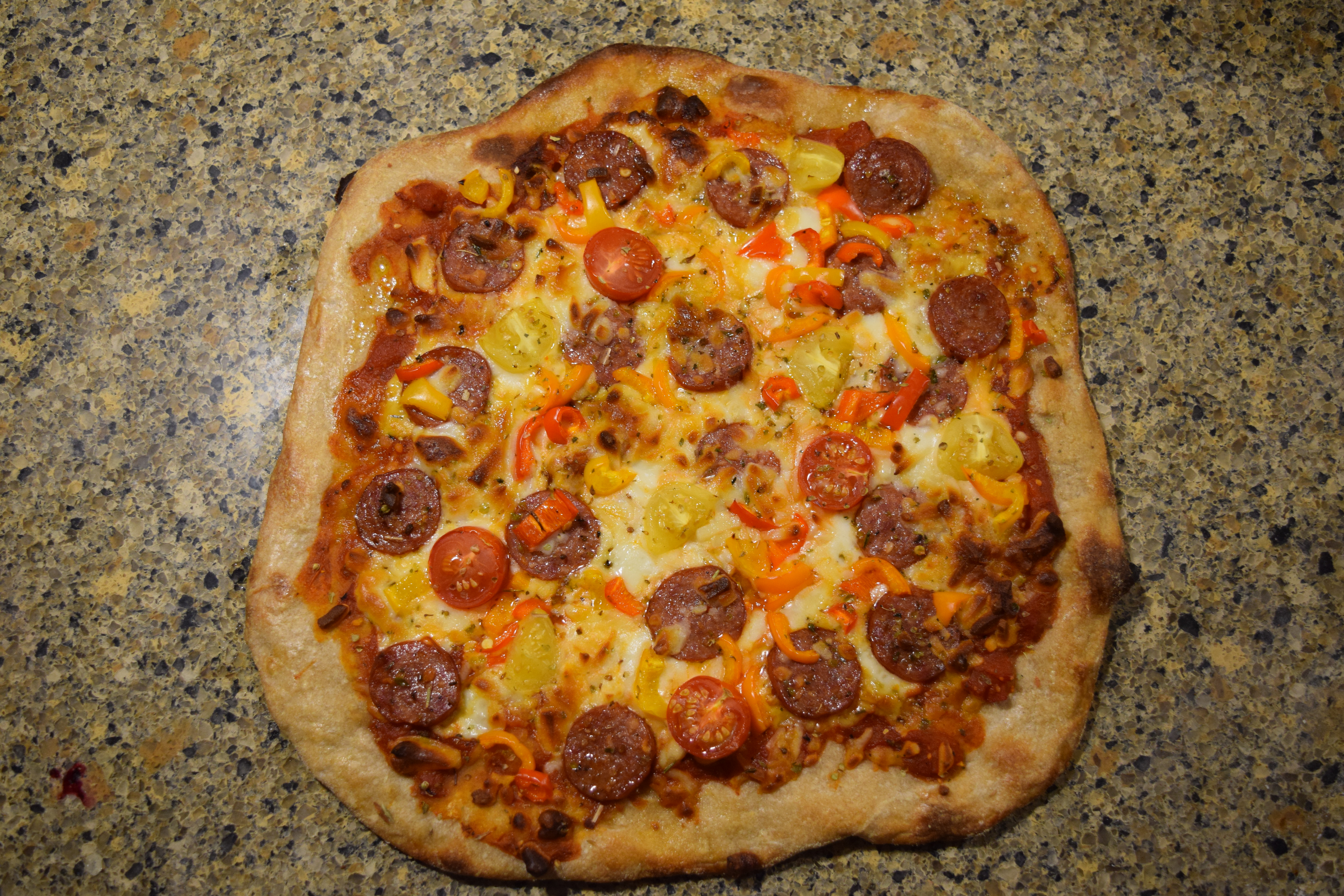 Try out our other sourdough discard recipes:
- Brownies